Shopping Cart
Your Cart is Empty
There was an error with PayPal
Click here to try again
Thank you for your business!
You should be receiving an order confirmation from Paypal shortly.
Exit Shopping Cart
Emerald​ Coast ​Paranormal Concepts E.C.P.C.
| | |
| --- | --- |
| Posted on November 6, 2012 at 1:42 PM | |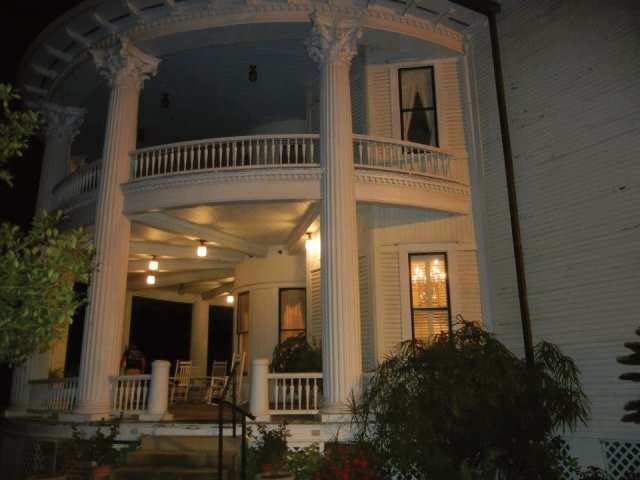 On March 3rd 2012, Emerald Coast Paranormal Concepts conducted a paranormal investigation of the Russ House. The Russ house, which is now the home of the Marianna Chamber of Commerce, was built in 1895 by J.W. Russ, Jr. as a residence for him and his mother. Better known by locals as "The Big House" was home to 5 generations of Russ family members. The Russ House certainly has seen its share of tragedy over the years. There were scandals over marriages, a fortune lost in the great crash of 1929 and its builder, Joseph W. Russ, Jr., committed suicide in 1930, evidently despondent over the loss of the family fortune in the Great Depression. Former residents described mysterious sounds and unexplained sights in the house. One, in fact, recommended that Chamber of Commerce employees think twice about working alone in the house after dark! 
 The team arrived a little after 7 pm, we set up all the gear and started to investigate. During the evenings investigation there were some personal experiences, our K II Meters and MEL meters would light up like a Christmas tree. Over all it was a good night. After reviewing the evidence we captured on video the upstairs bathroom door opening up by itself, and we may have captured what seems like 2 shadows going down the stairs. We captured on a night vision camcorder the sound of footsteps. No one was in the house at this time. We also captured on the camcorder the lights blinking on and off and a voice that said "help" there were 3 of us that also heard this. We were able to capture on our digital recorders 10 solid EVP. There were actually quite a few more than that but after reviewing them again these 10 are the most unexplainable. 
 During the investigation I was overcome by the feeling of having to go into this one room. The room is now the large meeting room they have upstairs. Every time I would leave the room to go investigate another area of the house, I would feel like I had to go back into the meeting room. It was almost like the sense you get when you know that you left something somewhere. We did catch a couple of good EVP in the room. One that sounds like a growl. Even after we had left the house for the evening I still had this feeling that I needed to go back to that room. I felt that way all day Sunday-Tuesday. When I got up on Wednesday the feeling was gone. I really don't know what to make of that. So is the Russ House haunted? and by whom? At this point I would say that the house is not haunted, but I think is being occupied by a female and a male. We were unable to decipher from our evidence any sort of name. I think the male that is here could possibly be a soldier. I say this because of a response we got during and EVP session. There is one thing about this though. The battle of Marianna happened in Sept. 1864. That was 31 years before the house was built. Could this spirit have died during the battle and was stirred up while the house was being built? That is a question I would also like to know.  The female spirit would not give us any information but we heard her speaking on one of our recorders. I don't think anything in the house is evil. I believe that whoever is there is comfortable with their surroundings and does not mind visitors who come in to the house late at night to chat and ask questions. It was our honor to investigate the Russ house, and it was a privilege to sit down and talk to with the spirits that reside in the Russ House. I am so looking forward to the chance to sit with them 
Categories: Investigations
/